EAST OF THE SUN [DOWNLOAD]
Recorded by the Dave Pell Octet
Arranged by Jack Montrose, Edited by Rob DuBoff and Jeffrey Sultanof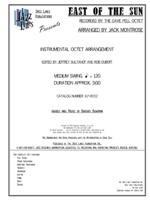 Cat #: JLP-8552DL
$40.00
This product is available for immediate download after purchase.
Questions?
Please call +1-518-587-1102 or email us.
Audio Sample:
Edition: Jazz Octet Arrangement [4 Horns with Rhythm Section]
Description: Swing - Medium
Publisher: Jazz Lines Publications
Here is the Jack Montrose arrangement for the Dave Pell Octet recorded on the Jazz Goes Dancing album in 1956. This has been fully edited and engraved from the original parts and includes a full score.
This publication was based on the original parts used during the recording session, supplied to us by Dave Pell - this is not a transcription.
Full Score
Tenor Saxophone
Baritone Saxophone
Trumpet
Trombone
Guitar
Piano
Bass
Drums