(EVERYBODY'S WAITIN' FOR) THE MAN WITH THE BAG [DOWNLOAD]
Arranged by Rick Stitzel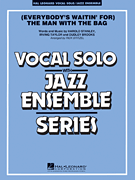 Cat #: HL-7500131DL
$55.00
This product is available for immediate download after purchase.
Questions?
Please call +1-518-587-1102 or email us.
Audio Sample:
Edition: Jazz Big Band Arrangement with Vocal
Description: Swing - Medium Difficult
Publisher: Hal Leonard
Composed in the '50s, this entertaining holiday tune has been recorded notably by Kay Starr, and more recently the Brian Setzer Orchestra. A dynamic and swingin' addition to any holiday concert! Vocal key: A flat.
Full Score
Solo Vocal
2 Alto Saxophones
2 Tenor Saxophones
Baritone Saxophone
4 Trumpets
4 Trombones
Guitar
Piano
Bass
Drums
Vocal Range: Ab3 (two ledger lines below staff) to C5 (3rd space in staff)