FLY ME TO THE MOON [DOWNLOAD]
Recorded by the Dave Pell Octet
Arranged by Bob Florence, Prepared for Publication by Dylan Canterbury, Rob DuBoff, and Jeffrey Sultanof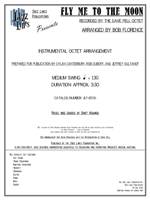 Cat #: JLP-8556DL
$40.00
This product is available for immediate download after purchase.
Questions?
Please call +1-518-587-1102 or email us.
Edition: Jazz Octet Arrangement
Description: Swing Waltz - Medium
Publisher: Jazz Lines Publications
It may be most frequently associated with Frank Sinatra, but this Bob Florence arrangement of Fly Me to the Moon for the Dave Pell Octet sticks to composer Bart Howard's original 3/4 time signature throughout. It's a fairly simple arrangement when all's said and done, but serves as a nice frame for the popular standard. This was recorded in 1963 and released on the album The Dave Pell Octet Plays Today's Hits in Jazz.
The melody is stated in, essentially, a baroque fashion, with the tenor sax handling the melody while accompanied by a steady series of guitar arpeggios and a simple bass line to establish the tonality. During this melody statement, all 8th notes should be played straight to preserve the classical quality to the writing. The second half of the melody sees some gentle harmony from the rest of the horns to fill out the sound before the arrangement takes a more soloist-focused turn at measure 37. First up is a half chorus of piano, followed by a half chorus of baritone sax.
Measure 69 sees a key change and a re-appearance of the melody, played in soli by the horns, before returning to more solo fun. In this case, it's an almost full chorus of trumpet, with some gentle backgrounds underneath at measure 85. A bluesy unison horn line at measure 101 cuts the trumpet solo off, with the horns eventually branching into harmony at measure 109, returning to unison at measure 117, and back to harmony once more at measure 125. A drum solo sets up the finale: an ascending horn riff that serves as a fake-out to a docile final chord.
This publication was based on the original parts used during the recording session, supplied to us by Dave Pell - this is not a transcription.
Full Score
Tenor Saxophone
Baritone Saxophone
Trumpet
Trombone
Piano
Bass
Drums
Guitar
Trumpet: Bb5
Trombone: Bb4