FOCUS [COMPLETE SET]
Recorded by Stan Getz and Beaux Arts String Ensemble
Composed and Arranged by Eddie Sauter, Edited by Rob DuBoff, Jeffrey Sultanof, Alex Chilowicz, and Andrew Homzy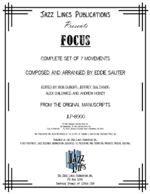 Cat #: JLP-8900
$399.00
This item usually ships within 1 business day.
Questions?
Please call +1-518-587-1102 or email us.
Edition: String Ensemble Arrangement (Score and Parts)
Description: Advanced
Publisher: Jazz Lines Publications
This is quite possibly the most important string work ever composed for and recorded by a jazz musician. Eddie Sauter's score defies all categorization. Similar to Mussorgsky's Pictures at an Exhibition, each movement presents a unique mood ready to transport the listener to a fairytale scene. Unlike other commerical and jazz soloist with string compositions, this piece features almost no written part for the soloist. While there are guidelines and cues for the soloist (and sporadic written melodies) this piece requires the soloist to blend with the orchestra and imagine (through improvisation) the "missing" part.

"Eddie Sauter conceived of Focus, in his words, as 'seven different fairytales...as if Hans Christian Andersen was a musician.' Each of the movements does, indeed, have a very unique character, and, therefore, each movement should be addressed as an individual piece. The whimsical nature of Focus is omnipresent: from the titular and musical allusions in I'm Late, I'm Late (movement 1) referencing a song from Disney's Alice in Wonderland; to the images of Greek mythology presented by Pan (movement 3); to a movement simply entitled Once Upon a Time. The more familiar one becomes with Eddie Sauter's Focus, the clearer it becomes that the writing is not simply an example of jazz with strings, nor is it a purely classical work with a jazz soloist playing over it. With dedication, Focus can stand as one of the truly rare instances where elements of jazz and classical music converge to create a sound that defies categorization."
Alex Chilowicz, editor, musician, and researcher (excerpted from the foreward)
"Of all the varied manifestations of the third-stream idea in jazz, it is Focus that now strikes me as the most persuasive and idiomatic - perhaps, paradoxically enough, because it had so little to do with that musical movement. Eddie Sauter was simply writing a piece of music for Stan Getz, a masterpiece sui generis that stands outside all received notions about how jazz and classical music might be fused. If anything, Focus is more like one of the compositions in which Duke Ellington left it to his great soloists to supply the melodic material that he superimposed atop his kaleidoscopically rich orchestral accompaniments. It was a stroke of genius (and a triumph of modesty) for Sauter to recognize that Getz was capable of improvising more than enough such material to fuel a full-length multi-movement suite. Rarely has the essentially collaborative nature of jazz been illustrated so dramatically, or so fruitfully."
Terry Teachout, author of Pops: A Life of Louis Armstrong
Ultimately, it is the soloist's imagination - ears and knowledge of the score - which will lead to an exciting interpretation of Sauter's music. Getz's realization is fabulous - so is that of like-minded musicians such as Krivda and Lovano. How would Coltrane or Dexter Gordon - or their disciples - approach it? This question is precisely why jazz composition interests me so much. The score is more laden with possibilities than any recording. The recording will never change, but a new performance will uncover more of the composer's gift. Having said that, publishing Focus is an important milestone in American Music. What a gift."
Andrew Homzy, musician, arranger, composer, educator, researcher
"Kudos to the Jazz Lines Foundation for releasing the music from Focus the iconic Stan Getz/Eddie Sauter collaboration. The set of original compositions and Stan's wonderfully interactive improvisations have been a milestone for all saxophone/string collaborations and represents Stan's goal of playing in a "classical" mode. His playing, while representing the essence of pure Jazz, mines the many moods presented to him by Eddie Sauter and has become a treasure for all to enjoy."
Mel Martin, musician, composer, arranger, educator
"The value of Focus is that it was the first piece to give strings the truly rhythmic impetus that lies at the heart of jazz."
Chris Sheridan, author and journalist
"My father always did a lot of listening and score reduction study. I would frequently find him poring over something by Bartok, Prokoviev, or Stravinsky, for example. It is most likely that he learned the idiosyncracies of string writing from these sources. In fact, in I'm Late, I'm Late, you can hear echoes of the second movement from Bartok's Music for Strings, Percussion, and Celesta. When it came time for the recording dates, Bill Finegan was on the scene as some of the pieces were being run down. These 'run downs' constituted the full extent of any rehearsing that was done. He always enjoyed recalling one of Stan's remarks as they were sitting in the engineer's booth listening: 'Now, what the Hell am I going to do with that?' He knew that this meant that Stan knew he was being challenged. As I think back on all the events surrounding the creation of Focus, my hope is that its listeners can sense the fun and exhilaration that were in the air at the time. These elements are at the core of a memory that I will always cherish."
Greg Sauter, musician and son of Eddie Sauter (excerpted from the forward)
Full Score
Soloist (parts in concert, B-flat, and E-flat)
Violin I (8 parts)
Violin II (8 parts)
Viola (5 Parts)
Cello (5 Parts)
Double Bass (3 Parts)
Harp
Piano/Celeste
Percussion (Snare Drum, Marimba, Tambourine)
Reviews
Write your own review for this product!





07/26/16
Anonymous