FRED'S DELIGHT
Recorded by Artie Shaw
Arranged by Tadd Dameron, Edited by Don Sickler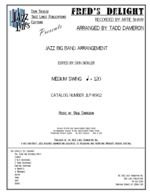 Cat #: JLP-8962
$65.00
This item usually ships within 1 business day.
Questions?
Please call +1-518-587-1102 or email us.
Edition: Jazz Big Band Arrangement
Description: Swing - Medium Difficult
Publisher: Second Floor Music
In 1949 Artie Shaw hired Tadd Dameron to write a few arrangements for his band. Dameron composed and arranged So Easy, Lyonia (unrecorded), and this arrangement of Fred's Delight. Shaw recorded this once in 1950. Set in a medium swing tempo, this chart features clarinet in a bop-style melody. There is also a guitar solo and short written trumpet solo. There are no saxophone doubles.
Full Score
Clarinet
2 Alto Saxophones
2 Tenor Saxophones
Baritone Saxophone
4 Trumpets
4 Trombones
Guitar
Piano
Bass
Drums
Trumpet 1: C#6
Trombone 1: C5