I'M COMING VIRGINIA
Arranged by Benny Carter, Edited by Rob DuBoff and Jeffrey Sultanof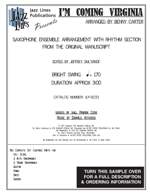 Cat #: JLP-8233
$50.00
This item usually ships within 1 business day.
Questions?
Please call +1-518-587-1102 or email us.
Edition: Jazz Saxophone Quartet Arrangement (with Rhythm Section)
Description: Swing - Difficult
Publisher: Jazz Lines Publications
Here is Benny Carter's great sax ensemble arrangement as recorded in 1938 with Django Reinhardt on guitar. This arrangement features 2 altos, 2 tenors, guitar, piano, bass, and drums. An open solo section is included so that you may feature any number of soloists. This is a difficult but absolutely superb arrangement.
Full Score
2 Alto Saxophones
2 Tenor Saxophones
Guitar
Piano
Bass
Drums