KINDA DUKISH / ROCKIN' IN RHYTHM
NEW 25TH ANNIVERSARY EDITION!
Recorded by Duke Ellington
Arranged by Duke Ellington, Transcribed by Chris Crenshaw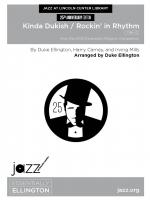 Cat #: JLC-5013
$50.00
This item usually ships within 1 business day.
Questions?
Please call +1-518-587-1102 or email us.
Edition: Jazz Big Band Arrangement
Description: Swing - Difficult
Publisher: Jazz at Lincoln Center
This new edition edition from the Jazz at Lincoln Center Library collection. This transcription by Chris Crenshaw is direct from the recordings of Duke Ellington, and they are not only authentic, they are perfect for your jazz ensemble. Features information about the original recording, and rehearsal notes and performance suggestions from Wynton Marsalis. The rhythm section begins with the tune Kinda Dukish then the full band begins with the familiar standard Rockin in Rhythm. Instrumentation: 5/4/3/4 - comes with optional guitar part.
This transcription was made especially for Jazz at Lincoln Center's 2019–20 Twenty-Fifth Annual Essentially Ellington High School Jazz Band Program.
Originally part of the 2003 Essentially Ellington Competition, this new, re-edited 25th anniversary edition was specially created for the 2020 Essentially Ellington Competition.
Full Score
2 Alto Saxophones
2 Tenor Saxophones
Baritone Saxophone (Doubles on Clarinet)
4 Trumpets
3 Trombones
Guitar (Optional)
Piano
Bass
Drums
Trumpet 1: D6 (Optional D7)
Trombone 1: C5