LITTLE ROCK GETAWAY [DOWNLOAD]
Recorded by the Gerry Mulligan Concert Jazz Band
Arranged by Al Cohn and Gerry Mulligan, Prepared by Jeffrey Sultanof and Rob DuBoff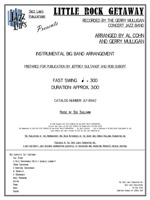 Cat #: JLP-8942DL
$65.00
This product is available for immediate download after purchase.
Questions?
Please call +1-518-587-1102 or email us.
Audio Sample:
Edition: Jazz Big Band Arrangement
Description: Swing - Difficult
Publisher: Jazz Lines Publications
This arrangement was originally written by Al Cohn in 1961 for the Gerry Mulligan Concert Jazz Band. Gerry re-wrote the arrangement for the group utilizing much of Cohn's content but adding quite a bit of his own material as well as altering the structure of the piece. The chart features solos for baritone saxophone, guitar, trumpet, and tenor saxophone. The beauty of this piece - and much of Gerry's writing - is the interplay between different instruments and sections.
Full Score
2 Alto Saxophones (Alto 1 doubles clarinet)
Tenor Saxophones
2 Baritone Saxophones
4 Trumpets
2 Trombones
Bass Trombone
Guitar
Piano
Bass
Drums
Trumpet 1: to D6
Trombone 1: to Bb4