MUSIC FOR A WHILE
Arranged by Don Bowyer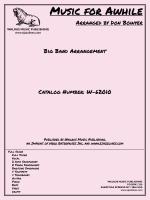 Cat #: W-62010
Retail Price: $50.00
Our Price: $47.50
This item usually ships within 1 business day.
Questions?
Please call +1-518-587-1102 or email us.
Edition: Jazz Big Band Arrangement with Vocal
Description: Funk - Medium
Publisher: Walrus Music Publishing
This big band funk setting of Henry Purcell's 300-year-old baroque classic provides the missing link for your next concert. Features baritone or alto vocalist, with solos for alto sax, trumpet,and piano. Lead trumpet to C6.5/4/4/P,B,D, Optl. G and Vibes. Medium.
Full Score
Vocal
2 Alto Saxophones
2 Tenor Saxophones
Baritone Saxophone
4 Trumpets
4 Trombones
Vibes
Guitar
Piano
Bass
Drums
Trumpet 1: C6
Trombone 1: F4