NOVEMBER AFTERNOON, A
Recorded by The Jazztet
Arranged by Tom McIntosh, Edited by Don Sickler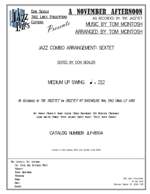 Cat #: JLP-8954
$30.00
This item usually ships within 1 business day.
Questions?
Please call +1-518-587-1102 or email us.
Audio Sample:
Edition: Jazz Combo Arrangement [3 Horns with Rhythm]
Description: Swing - Medium
Publisher: Second Floor Music
This great Tom McIntosh arrangement was written for The Jazztet and recorded on "The Jazztet at the Birdhouse" in May 1961. This arrangement features trumpet, tenor saxophone, and trombone with piano, bass, and drums. This is part of the Don Sickler Jazz Lines Publications Editions Series. Art Farmer's transcribed solo may be purchased from www.jazzleadsheets.com.
Full Score
Trumpet
Tenor Saxophone
Trombone
Piano
Bass
Drums