NUTCRACKER SUITE: COMPLETE SET [DOWNLOAD]
Recorded by the Glenn Miller Orchestra
Arranged by Dave Wolpe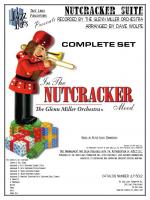 Cat #: JLP-5012DL
$350.00
This product is available for immediate download after purchase.
Questions?
Please call +1-518-587-1102 or email us.
Edition: Jazz Big Band Arrangement
Description: Swing - Medium Difficult
Publisher: Jazz Lines Publications
Complete set of 8 movements!
Tchaikovsky's "Nutcracker" ballet has served as a source of inspiration for jazz and pop artists for a number of years. The Glenn Miller Orchestra finally decided to take their own crack at it in 1993, enlisting the help of arranger Dave Wolpe to give the most famous melodies from the holiday classic a new twist. These arrangements pay homage to the original orchestrations while coating them in the unmistakeable "sweet" Miller sound. Mellow and easy-swinging, these arrangements are sure to bring holiday cheer to your musicians and audiences alike.
Full Score
Woodwind 1: Alto Saxophone/Flute/Clarinet
Woodwind 2: Alto Saxophone/Clarinet/Piccolo
Woodwind 3: Tenor Saxophone/Clarinet
Woodwind 4: Tenor Saxophone/Clarinet
Woodwind 5: Baritone Saxophone/Bass Clarinet/Alto Saxophone
4 Trumpets
4 Trombones
Guitar
Piano
Bass
Drum Set