PROHIBIDO
Arranged by Benny Carter, Edited by Rob DuBoff and Jeffrey Sultanof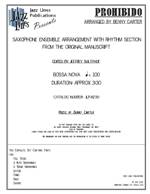 Cat #: JLP-8230
$50.00
This item usually ships within 1 business day.
Questions?
Please call +1-518-587-1102 or email us.
Edition: Jazz Saxophone Quintet Arrangement (with Rhythm Section)
Description: Bossa Nova - Medium
Publisher: Jazz Lines Publications
Here's Benny's great Bossa Nova arrangement from the 'Additions to Futher Definitions' album of 1966. This arrangement is not complicated. An open solo section has been included.
Full Score
2 Alto Saxophones
2 Tenor Saxophones
Baritone Saxophone
Guitar
Piano
Bass
Drums