C.B.'S THEME (FOR CHARLIE B. BLACK) [FROM THE ROCK CHALK SUITE] [DOWNLOAD]
Recorded by the Jazz at Lincoln Center Orchestra
Composed by Dan Nimmer, Arranged by Carlos Henriquez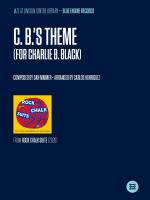 Cat #: JLC-5047DL
$50.00
This product is available for immediate download after purchase.
Questions?
Please call +1-518-587-1102 or email us.
Edition: Jazz Big Band Arrangement
Description: Swing - Medium Difficult
Publisher: Jazz at Lincoln Center
It's been said that basketball is like jazz — but Rock Chalk Suite takes the comparison to another level entirely. Written and recorded by the musicians of the Jazz at Lincoln Center Orchestra with Wynton Marsalis, each of the suite's high-flying 15 movements takes inspiration from a different University of Kansas hoops legend. As Marsalis says, both basketball and jazz "reward improvisation and split-second decision making against the pressure of time," and the JLCO's masterful composers have turned the Jayhawks' rich basketball history into a stylish slam dunk of an album.
Rock Chalk Suite was commissioned to celebrate the 25th anniversary of the Lied Center of Kansas, K.U.'s performing arts center, and the album utilizes the JLCO's full roster to honor the university's rich athletic heritage as well as its cultural contributions to the world. Drawing on the careers of famous Jayhawks like Paul Pierce, Lynette Woodard, and Jo Jo White, Rock Chalk Suite is a timeless tribute to the spirit of improvisation, both on and off the hardwood.
Full Score
2 Alto Saxophones (Alto Sax 2 Double Flute)
2 Tenor Saxophones
Baritone Saxophone
4 Trumpets
3 Trombones
Piano
Bass
Drums
Trumpet 1: C6
Trombone 1: Bb4