SHINY STOCKINGS
Arranged by William Brian Hogg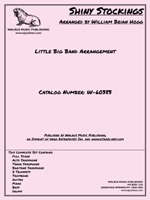 Cat #: W-60383
$35.00
This item usually ships within 1 business day.
Questions?
Please call +1-518-587-1102 or email us.
Edition: Jazz Little Big Band Arrangement
Description: Swing - Medium Difficult
Publisher: Walrus Music Publishing
If you are looking for a 10 piece record copy of Frank Foster's Shiny Stockings, this is it! The trumpet goes to a written D, arranged for Alto, Tenor, Bari, 2 Trumpets, Trombone, Guitar, Piano, Bass, Drums. Difficulty is 3-4. Medium difficult.
Full Score
Alto Saxophone
Tenor Saxophone
Baritone Saxophone
2 Trumpets
Trombone
Guitar
Piano
Bass
Drums
Trumpet 1: D6
Trombone: A4