SIBONEY
Arranged by Don Bowyer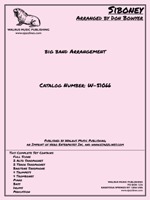 Cat #: W-51066
$48.00
This item usually ships within 1 business day.
Questions?
Please call +1-518-587-1102 or email us.
Edition: Jazz Big Band Arrangement
Description: Latin - Medium
Publisher: Walrus Music Publishing
Fast Latin crowd-pleaser with a unison lead for tenor, trumpet, and trombone. No doubles. First trumpet and solo trumpet to B above the staff.
Full Score
2 Alto Saxophones
2 Tenor Saxophones
Baritone Saxophone
4 Trumpets
4 Trombones
Piano
Bass
Drums
Percussion