CRADLE IN BETHLEHEM, A
Recorded by the Jazz at the Lincoln Center Orchestra
Arranged by Chris Crenshaw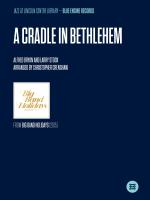 Cat #: JLC-5023
$50.00
This item usually ships within 1 business day.
Questions?
Please call +1-518-587-1102 or email us.
Edition: Jazz Big Band Arrangement with Vocal
Description: Ballad - Difficult
Publisher: Jazz at Lincoln Center
Originally written to feature vocalist Gregory Porter, this Chris Crenshaw arrangement is an excellent holiday vehicle for your husky-voiced male singer. Although there are plenty of classic-sounding big band moments, the performance as a whole should have an appropriately reverential quality to it as well. Be sure to pay careful attention to the multiple shifts in tempo, feel, and key throughout the chart. In addition to several short written solos in the ensemble, there is an optional open section for improvised choruses as well.
Full Score
Vocal
Woodwind 1: Alto Saxophone
Woodwind 2: Alto Saxophone
Woodwind 3: Tenor Saxophone
Woodwind 4: Tenor Saxophone/Soprano Saxophone
Woodwind 4 (Alternate Part): Tenor Saxophone/Flute
Woodwind 5: Baritone Saxophone
4 Trumpets
3 Trombones
Piano
Bass
Drums
Vocal Key: Bb modulating to C
Trumpet 1: C6