BABY WON'T YOU PLEASE COME HOME/ SOME OF THESE DAYS
Arranged by Henry Wolking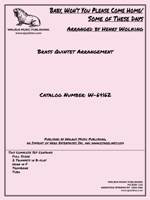 Cat #: W-64162
Retail Price: $15.00
Our Price: $14.25
This item usually ships within 1 business day.
Questions?
Please call +1-518-587-1102 or email us.
Edition: Brass Quintet Arrangement
Description: Swing - Medium
Publisher: Walrus Music Publishing
These two standards are cleverly arranged both independently and then together in their original key of F major. Not only do both share the same key, they share the same opening notes, phrases and melodic range. Their complimentary alternating phrase structure of active and passive measures fit together perfectly for combining the two melodies together in counterpoint. The in the staff melodies make for moderate ranges and gorgeous harmonizations. This is a fresh approach to two often performed standards. Trumpet 1 to one written high C. Medium.
Full Score
2 Trumpets in Bb
1 Horn in F
Trombone
Tuba
Trumpet 1: C6