CARELESS LOVE
Arranged by Henry Wolking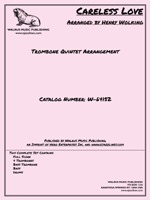 Cat #: W-64152
$20.00
This item usually ships within 1 business day.
Questions?
Please call +1-518-587-1102 or email us.
Edition: Trombone Quintet
Publisher: Walrus Music Publishing
Inspired by the laid-back 2004 recording by Madeline Peyroux, this early 20th century classic is a simple 16 bar head originally penned by W. C. Handy. The arrangement works well as a concert piece for unaccompanied trombone quintet or with optional bass and drums for a jazzier setting. It is through composed (no open blowing space or improvisation) and the melody lays well in the keys of F, Bb and Db. Lead to High C. Love may be careless but this chart is hardly that as it travels through solo, duo, trio, quartet and full blown quintet orchestrations. It is also well suited for doubling parts for a ten trombone ensemble with or without bass and drums. Medium.
Full Score
4 Trombones
Bass Trombone
Bass
Drums