CHARLIE PARKER WITH STRINGS JAZZ LINES PUBLICATIONS SERIES: TWELVE ARRANGEMENT SET [DOWNLOAD]
Recorded by Charlie Parker with Strings
Arranged by Joe Lipman, Jimmy Carroll, Jimmy Mundy, and Gerry Mulligan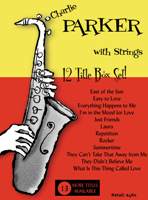 Cat #: JLP-1011DL
$535.00
This product is available for immediate download after purchase.
Questions?
Please call +1-518-587-1102 or email us.
Edition: 12 Jazz Studio Ensemble Arrangements With Alto Saxophone Soloist
Description: Swing/Ballad - Various Difficulty Levels
Publisher: Jazz Lines Publications
Charlie Parker loved all kinds of music, and had always wanted to record with strings. Under the auspices of Norman Granz, Bird not only fulfilled his dream, but created music that is, in the words of the All Music Guide, "lush, poetic, and romantic as hell." Amen.
Here are twelve of the legendary Charlie Parker With Strings original jazz studio ensemble arrangements in a specially-priced set at over 10% off of retail! These charts are among the most famous in the jazz canon, present interesting instrumentations, and are both beautiful and timeless.
They are all also available individually and please click on the titles for complete information.
We do have a few others available, so please let us know if you might like to make a substitution or add to the set; these twelve have been the most popular in the time we have been offering them.
Everything Happens To Me-JLP-8019
I'm In The Mood For Love-JLP-8029
They Can't Take That Away From Me-JLP-8043
They Didn't Believe Me-JLP-8044
What Is This Thing Called Love-JLP-8045