FOUR-FIVE-SIX
Arranged by William Brian Hogg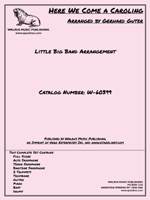 Cat #: W-60398
$35.00
This item usually ships within 1 business day.
Questions?
Please call +1-518-587-1102 or email us.
Edition: Jazz Little Big Band Arrangement
Description: Swing - Difficult
Publisher: Walrus Music Publishing
This adaptation from the original Frank Foster big band score is now available for your Little Big Band. Instrumentation is A,T,B saxes, Tpt 1-2, Tbn, Guitar, Piano, Bass and Drums. Trumpet 1 has written Ds in the part, and the Trombone has a couple of Bbs but it isnt around for long. I have included an optional section for solos, as well as an optional section where the rhythm section drops out. (the way we performed it with my group) Changes are in all parts if you wish to feature other soloists. Its a great medium tempo F blues chart for your program, hovering (because of the range) around that 4-5 difficulty range. A nice sax soli and some countermelodies are also a part of the original brought forth in this adaptation. Order it up and dig in! Difficult.
Full Score
Alto Saxophone
Tenor Saxophone
Baritone Saxophone
2 Trumpets
Trombone
Guitar
Piano
Bass
Drums