IMPROVISOR'S BASS METHOD [DOWNLOAD]
Chuck Sher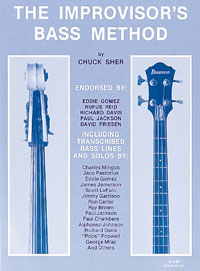 Cat #: SH-IBMDL
$25.00
This product is available for immediate download after purchase.
Questions?
Please call +1-518-587-1102 or email us.
Edition: PDF, Bass
Description: 218 Pages
Publisher: Sher Music Co.
The most comprehensive bass method book ever published! A complete method book, over 200 pages, filled with information and exercises on all aspects of bass playing, for both acoustic and electric bass.
Plus transcribed bass lines and solos by: Eddie Gomez, Ron Carter, David Friesen, Charles Mingus, James Jamerson, Ray Brown, Paul Jackson, Scott LaFaro, Marcus Miller, George Mraz, Jaco Pastorius, Paul Chambers, Alphonso Johnson, Jimmy Garrison, and more.
ENDORSEMENTS:
Jazz Educators Journal - "What makes the book outstanding is how it covers both the basics and the more creative aspects of bass playing. Recommended for electric or upright bass players at all levels of musicianship."
Eddie Gomez (bassist with Bill Evans, Chick Corea, and many others) - "Chuck Sher has put together a book that is informative, readily comprehensible, and highly imaginative. I recommend it for any bassist interested in expanding his awareness in the art of improvising."
Rufus Reid (author of "The Evolving Bassist") - "The book is great and Chuck Sher is to be congratulated. It is very thorough and gives a great deal of knowledge about both instruments. This is really an excellent theory book and a reference book too."
David Friesen (Inner City Records recording artist) - "Chuck Sher has sincerely made an honest and musical effort to bring to bass players a complete book on how to approach the bass violin as a creative instrument... used not as a means to an end, it may become a very valuable source of information to the serious bass player."