MODERN HARMONIC TECHNIQUE: VOLUME 1 - THE ELEMENTS OF HARMONY
Modern Arranging and Composing
Gordon Delamont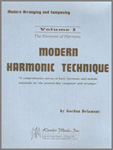 Cat #: KN-20890
Retail Price: $29.95
Our Price: $26.96
This item usually ships within 5 to 7 business days.
Questions?
Please call +1-518-587-1102 or email us.
Edition: Paperback Book
This series of books by Gordon Delamont are a complete examination of all aspects of modern arranging and composing. Adopted by high school and college music theory programs everywhere, they provide students with a logical, progressive and comprehensive study of all modern trends.
A comprehensive survey of basic and harmonic and melodic materials for the present - day composer and arranger.

FOREWORD:

This book has been written with the intention of serving:

1. The beginner who needs a text which will provide a thorough understanding of the theory which underlies the harmony of modern (North) American arranging, jazz, and all areas of composition which use scales and chords as a starting point. The text assumes only that the beginner has a basic ability to read music, a knowledge of the treble and bass staffs, a little playing and listening experience, and an interest.

2. The novice arranger, who is often hampered by the lack of a proper foundation in harmonic technique and part movement.

3. The professional arranger or composer, who may find that this codification of harmonic principles will provide him with a deeper understanding, and perhaps some fresh avenues of musical thought.

TABLE OF CONTENTS:

Chapter l - SCALES

Chapter 2 - INTERVALS

Chapter 3 - CHORDS

Chapter 4 - Preparatory Considerations to the STUDY OF HARMONY

I. A Catalogue of the Harmonically Dissonant Intervals
II. Writing Techniques
III. The General Principles of Voice Leading
IV. Harmonic Pulse

Chapter 5 - THE CADENCES

Chapter 6 - A Basic Theory of CHORD PROGRESSION

Chapter 7 - Chord Progression In DIATONIC IONIAN

I. The Primary Chords
II. The ii and vi Chords
III. The 7th Chords
IV. The iii Chord in Major
V. The 1st Inversion
VI. The Use of an Initial Chord Other Than "I" VIII. Change of Position ("Arpeggiation")
IX. The VII Chord in Major

Chapter 8 - Chord Progression In MINOR

Chapter 9

I. THE SECOND INVERSION (of Major and Minor Chords)
II. THE THIRD INVERSION (All 7th Chords)

EPILOGUE: SAMPLE SOLUTIONS TO THE ASSIGNMENT TEXT EXERCISES
INDEX