PUNJAB
Recorded by the Joe Henderson Big Band
Arranged by Joe Henderson, Edited by Rob DuBoff and Jeffrey Sultanof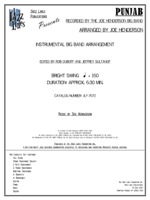 Cat #: JLP-7072
$75.00
This item usually ships within 1 business day.
Questions?
Please call +1-518-587-1102 or email us.
Audio Sample:
Edition: Jazz Big Band Arrangement
Description: Swing - Advanced
Publisher: Jazz Lines Publications
In the mid 1960s Joe Henderson and Kenny Dorham formed a rehearsal big band as a vehicle for composition and arranging experimentation. While this band never recorded or performed live, they did get together often to read through new arrangements. Joe Henderson took several of his well-known tunes like Punjab, Shade of Jade, Isotope, and Homestretch (re-named Joe's Blues) and a few standards such as Without a Song and Chelsea Bridge and created harmonically and rhythmically sophisticated arrangements that are deep even by today's big band writing standards. In 1992 Joe Henderson and Don Sickler put together an all-star band to record these arrangements that had been sitting around for many years. The idea was that the band would perform a concert of these arrangements at Lincoln Center and then later that week go into the studio to record. The concert was broadcast by NPR complete with interviews with Freddie Hubbard and Joe Henderson. A second recording session was held 4 years later where arrangements by Bob Belden, Slide Hampton and Michael Philip Mossman were recorded. In 1998 the Joe Henderson Big Band album won a Grammy Award for Best Large Jazz Ensemble Performance.
All of these arrangements feature lengthy solos for a tenor saxophone soloist. Included are open solo sections so that any number of soloists may be featured. In addition, while there was no guitarist used during the recording sessions, we have included a guitar part as Joe had done in his arrangements. These arrangements will require significant time to work them up, but they would be a amazing for any competition or festival! This has been edited and egraved directly from Joe's original scores and parts - this is not a transcription.
This arrangement of Punjab was performed live for the NPR broadcast and recorded during the subsequent studio session but was not released on the Joe Henderson Big Band album.
We'd like to thank the Joe Henderson Big Band producer and conductor Don Sickler for his support of this project.
Full Score
Tenor Saxophone Soloist
2 Alto Saxophones
2 Tenor Saxophones
Baritone Saxophone
5 Trumpets
4 Trombones
Guitar (Optional)
Piano
Bass
Drums
Trumpet 1: to C#6
Trombone 1: Bb4