RUN MARIO RUN [DOWNLOAD]
Arranged by Henry Wolking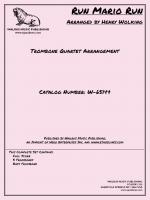 Cat #: W-65144DL
$25.00
This product is available for immediate download after purchase.
Questions?
Please call +1-518-587-1102 or email us.
Edition: Jazz Trombone Quartet Arrangement
Description: Contemporary - Medium Difficult
Publisher: Walrus Music Publishing
New for 2017, This energetic 5 minute quartet was the inspiration for the big band chart of the same name. It could also could serve as a soundtrack for an imaginary Super Mario Run game or it could be a super fresh Reggae tinged unaccompanied trombone quartet featuring a written or improvised 1st trombone solo with an optional high D. An unusual feature is that it presents the trombones in several all glissandi sections. This is a new, robust, and highly original trombone quartet.
Full Score
3 Trombones
Bass Trombone