SAMBA ALEXANDER
Arranged by Henry Wolking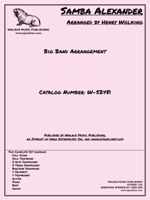 Cat #: W-52481
Retail Price: $60.00
Our Price: $57.00
This item usually ships within 1 business day.
Questions?
Please call +1-518-587-1102 or email us.
Edition: Jazz Big Band Arrangement
Description: Samba - Medium Difficult
Publisher: Walrus Music Publishing
This Samba is the second chart I wrote for Ashley Alexander following Super Frank. Like Super Frank, it has a well-defined 32 bar head and inventive ensemble interactions with the trombone soloist. I've used this chart as a trombone section feature by doubling the melody with the whole section and opening up the blowing space. The chart floats buoyantly on a half note samba groove that takes a surprise turn to half time swing and a brief shuffle before returning home. The melody in Cmi lays well for the trombone, as do the ensemble passages for the sections; lead trumpet only goes to a written D above the staff. 5/5/5 (1 solo plus 4)/G/P/B/D. Medium Difficult.
Full Score
Solo Trombone
2 Alto Saxophones
2 Tenor Saxophones
Baritone Saxophone
4 Trumpets
4 Trombones
Guitar
Piano
Bass
Drums