9.2.4
Arranged by William Brian Hogg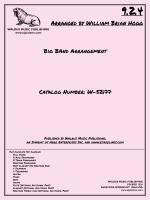 Cat #: W-52177
$50.00
This item usually ships within 1 business day.
Questions?
Please call +1-518-587-1102 or email us.
Edition: Jazz Big Band Arrangement
Description: Swing - Medium Easy
Publisher: Walrus Music Publishing
"This is my first attempt at writing a piece for a middle school jazz band, and I am honored to write this piece for my good friend, Jim, and his students at the Twenhofel Middle School Jazz Ensemble. The piece was originally meant to be a more lighthearted ballad; slow, sultry perhaps, but in good humor. However; in the process of writing the piece, 2 people very close to me, one a lifelong friend of the family, the other a musician, died suddenly. The bass clarinet figure is the foundation of the piece as my musician friend was a well-known bass player, the foundation of most all music. The melody is simple, not very dramatic, and very much understated as it evolved from my reflection on the close friend to the family. Her strength, gentleness and quiet demeanor permeates the melodic construct."
-William Brian Hogg, 2018
9.2.4 features a duet for bass clarinet and baritone saxophone that is written. Chord changes are included if the instructor wishes to expand on the written duet and allow for either a longer solo section or for improvisation from the student. The section following the solos can be a little tricky, but all in all the tune is fairly accessible for most ensembles. Trumpet goes to a written G on the top of the staff. Alternate baritone sax (in place of the bass clarinet), clarinet, flute and treble clef baritone parts are included.
Full Score
2 Alto Saxophones
2 Tenor Saxophones
Baritone Saxophone
Bass Clarinet (Or Baritone Sax)
4 Trumpets
4 Trombones
Guitar
Piano
Bass
Drums
Flute (Optional Additional Part)
Clarinet (Optional Additional Part)
Baritone Treble Clef (Optional Additional Part)

Trumpet 1: G5