ART PEPPER + ELEVEN JAZZ LINES PUBLICATIONS SERIES: COMPLETE SET OF SEVEN ARRANGEMENTS
Recorded by Art Pepper
Arranged by Marty Paich, Prepared for Publication by Rob DuBoff and Jeffrey Sultanof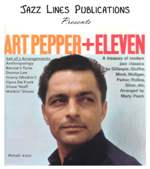 Cat #: JLP-1006
$310.00
This item usually ships within 1 business day.
Questions?
Please call +1-518-587-1102 or email us.
Edition: Seven Jazz Little Big Band Arrangements
Description: Swing - Various Difficulty Levels
Publisher: Jazz Lines Publications
All seven of the little big band arrangements written by Marty Paich for Art Pepper for the classic + Eleven record are now available in a specially-priced complete set! The set is slightly over 10% off of the retail prices of the individual pieces.
All of these are also available separately, and please click on the titles below for full descriptions of each title:
Anthropology-JLP-8402
Bernie's Tune-JLP-8403
Donna Lee-JLP-8404
Gravy (AKA Walkin')-JLP-8409
Opus De Funk - JLP-8407
Shaw 'Nuff-JLP-8408
Walkin' Shoes-JLP-8410