GREY FLANNEL
Recorded by the Dave Pell Octet
Arranged by Marty Paich, Edited by Rob DuBoff and Jeffrey Sultanof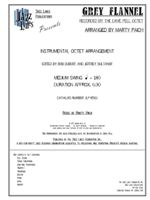 Cat #: JLP-8561
$40.00
This item usually ships within 1 business day.
Questions?
Please call +1-518-587-1102 or email us.
Edition: Jazz Octet Arrangement (4 Horns with Rhythm Section)
Description: Swing - Medium
Publisher: Jazz Lines Publications
Marty Paich, a regular contributor to the Dave Pell Octet, arranged this original composition for the 1957 record 'A Pell of a Time.' This arrangement is not difficult and features solos for everyone except bass and drums.
This publication was based on the original parts used during the recording session, supplied to us by Dave Pell - this is not a transcription.
Full Score
Tenor Saxophone
Baritone Saxophone
Trumpet
Trombone
Guitar
Piano
Bass
Drums