BILL BAILEY
Arranged by Henry Wolking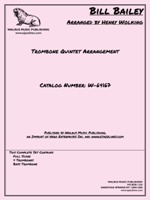 Cat #: W-64167
$15.00
This item usually ships within 1 business day.
Questions?
Please call +1-518-587-1102 or email us.
Edition: Trombone Quintet Arrangement
Description: Medium
Publisher: Walrus Music Publishing
This 1902 composition served as a transition tune from ragtime to traditional (trad) jazz. Originally written in 2/4 in the key of G, it became a trad standard, in F, most often played in up tempo 4/4. It also has a rarely performed verse as well as the well-known chorus. This arrangement includes both, and begins with the lesser known verse. It starts in the key of F and modulates to the original key of G for the final chorus. Hughie Cannon also wrote the lyrics, which undoubtedly contributed to this tunes vast popularity. Lead bone to high C, other ranges are moderate. This inventive romp slides and glides from ragtime, to modern jazz and even a jazz waltz. It requires no improvisation. Medium.
Full Score
4 Trombones
Bass Trombone