GERRY MULLIGAN COLLECTION
Artist Transcriptions Series
Gerry Mulligan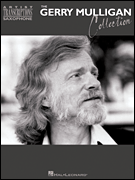 Cat #: HL-672539
Retail Price: $24.95
Our Price: $22.46
This item usually ships within 5 to 7 business days.
Questions?
Please call +1-518-587-1102 or email us.
Edition: Paperback Book, Baritone Saxophone
Description: 72 Pages
SONGLIST:
A Ballad
Bark For Barksdale
Bernie's Tune
Chelsea Bridge
Festive Minor
Five Brothers
For An Unfinished Woman
K-4 Pacific
Line For Lyons
My Funny Valentine
Out Of Nowhere
Song For Strayhorn
Venus De Milo
Walkin' Shoes
Also includes a bio and discography on Mulligan.