YARDBIRD SUITE
Written for Charlie Parker with Strings
Arranged by Gerry Mulligan, Edited by Jeffrey Sultanof and Rob DuBoff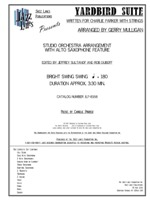 Cat #: JLP-8168
$65.00
This item usually ships within 1 business day.
Questions?
Please call +1-518-587-1102 or email us.
Audio Sample:
Edition: Jazz Studio Orchestra Arrangement
Description: Swing - Medium
Publisher: Jazz Lines Publications
Here is a previously unknown arrangement that Gerry Mulligan wrote in 1952 for Charlie Parker with Strings. When Jeff Sultanof was working with Gerry in 1995, he commented on this lost score: "I did write something else for Bird, but I never finished it, and even wrote on the music that he should come up with something if he wanted to use it." This mystery arrangement was apparently written around the time when Mulligan went to California. But, as Gerry couldn't remember the name of the arrangement it remained lost until recently. This treasure was in Mulligan's own collection, literally hiding in plain sight: a concert sketch with the notation 'arr. Jeru' of "Yardbird Suite" with a note on the top right-hand corner of the first page: "Bird, you'll hafta do something with the last chorus – I couldn't finish it."
There was enough material so that the arrangement could be finished, and we wrote out a full score, adding missing lines and harmonies, chord names, and bass lines only where necessary; the majority of the music was already there. Ironically, Mulligan sketched out two different ideas for the first chorus of the arrangement, and so part of one of them was used to supply the missing section of the last chorus. The instrumentation of this arrangement brings up several questions: Parker never appeared with an ensemble of English Horn, four saxes, three brass, rhythm and strings. This would suggest that "Yardbird Suite" had not been written for the touring ensemble Bird led during the early fifties. I believe that this arrangement was written for a possible recording date with a combo-style instrumentation plus strings - it includes a baritone sax solo (certainly Mulligan) and a trombone solo (Kai Winding?). Another clue can be found at bar 5 where the names Roy and Walter appear, suggesting Roy Haynes and Walter Bishop Jr., who were part of Parker's band at the time.
We have included an optional clarinet part that may be used in place of the English horn part.
Full Score
Solo Alto Saxophone
Reed 1: Alto Saxophone
Reed 2: Alto Saxophone
Reed 3: English Horn or Clarinet (Alternate part included)
Reed 4: Tenor Saxophone
Reed 5: Baritone Saxophone
2 Trumpets
Trombone
Violin I
Violin II
Viola
Cello
Piano
Bass
Drums