BIRTH OF THE COOL JAZZ LINES PUBLICATIONS SERIES: COMPLETE SET OF TEN ARRANGEMENTS [DOWNLOAD]
Recorded by Miles Davis
Arranged by Gerry Mulligan, Gil Evans, and John Lewis; Prepared for Publication by Rob DuBoff and Jeffrey Sultanof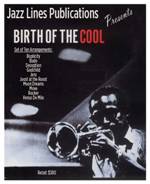 Cat #: JLP-1004DL
$445.00
This product is available for immediate download after purchase.
Questions?
Please call +1-518-587-1102 or email us.
Edition: Ten Jazz Small Group Arrangements
Description: Various Difficulty Levels
Publisher: Jazz Lines Publications
All ten of the charts from this landmark session which have been published by Jazz Lines Publications are now available in a specially-priced complete set at over 10% off!
These are all also available separately, and please click on any of the titles for full information on each of the arrangements.
Gil Evans set up shop in his small New York apartment above a Chinese laundry acting as an adviser to a group of jazz musicians. Evans was already well-known as an adventurous arranger who took inspiration from classical composers of the day. The emphasis of this group was the arrangements and the re-definition of the current jazz scene. Gerry Mulligan was the main arranger and composer with John Lewis. In 1947 Evans and Gerry Mulligan organized a group of musicians into a working nonet and began to rehearse some new material. Miles Davis was trying to separate himself from the bebop club scene, of which he was a part in Charlie Parker's groups. He heard the music being played at Gil Evans' place and joined them.
In 1949 Davis organized the recording of twelve arrangements, nine by Gerry Mulligan. They were recorded by Capitol Records, during three recording sessions, over the next year. These sessions yielded the famous Birth of the Cool record. The musicians that were in the group included: Miles Davis (trumpet), Mike Zwerin (trombone), Bill Barber (tuba), Junior Collins (French horn), Gerry Mulligan (baritone saxophone), Lee Konitz (alto saxophone), John Lewis (piano), Al McKibbon (bass), and Max Roach (drums).
Gerry Mulligan with Gil Evans, John Lewis, Miles Davis, and the others invented what came to be known as the Cool School.
Boplicity-JLP-8052
Budo-JLP-8057
Deception-JLP-8058
Godchild-JLP-8055
Jeru-JLP-8051
Joost at the Roost-JLP-8060
Moon Dreams-JLP-8010
Move-JLP-8054
Rocker-JLP-8050
Venus De Milo-JLP-8056
Full Score
Alto Saxophone
Baritone Saxophone
Trumpet
Horn in F (or Trumpet 2 or Tenor Sax)
Trombone
Tuba (or Bass Trombone)
Piano
Bass
Drums